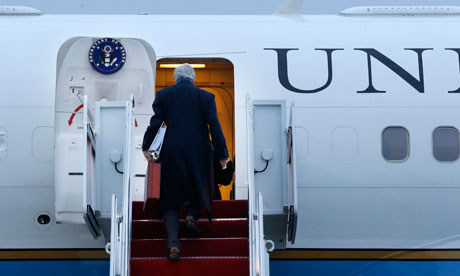 On January 28, 2013, former Massachusetts Senator and presidential hopeful, John Kerry, was confirmed as Hillary Rodham Clinton's successor as Secretary of State.  Kerry has his hands full in his new position, as filling the iconic Hillary Clinton's shoes and continuing her successful revitalization of a diplomacy-heavy foreign policy may not be easy.  Although Kerry has twenty-five years of service as a Senator on the Senate Foreign Relations Committee, some believe that he may lack the strong voice and charisma that former Secretary Clinton exhibited over the course of her four years as Secretary of State.  Nonetheless, Kerry has hit the ground running.
This past week, just one month into his secretaryship, Kerry embarked on an eight-country trip to tackle global issues ranging from free trade to the war in Syria to social reform. The Secretary began his trip in London on February 25 to meet with British Prime Minister David Cameron to discuss, among other things, the recently announced bilateral plan between the U.S. and U.K to foster a transatlantic free trade deal that is projected to be the most lucrative in history. Following his brief stay in the U.K, the Secretary traveled to Berlin, Germany; Paris, France; and Rome, Italy to discuss cross-culturalism, sanctions and potential negotiations with Iran, and economic and military partnerships.
Perhaps most notably, the fledgling Secretary met with Egyptian President, Mohamed Morsi, to discuss economic, social, and political stability in the struggling recently democratic country.  The talks in Egypt concluded with the State Department's announcement that it will release $250 million in an effort to aid Egypt in its ascension to a stable democracy.  Perhaps in an effort to set the tone from the start, Kerry stated in a diplomatic yet firm tone that "[t]he path to that future has clearly been difficult and much work remains," indicating that he is not satisfied with the status quo, and that he and the U.S. will maintain a vigilant eye on Morsi's conduct.  Kerry also spoke as firmly as a first-time visiting and newly confirmed Secretary of State could when he said that the Egyptian people "did not risk their lives to see th[e] opportunity for a brighter future squandered."  Time will tell how Kerry conducts himself in the future, but it seems that Kerry was making efforts to establish a fair but stern tone in his debut.
The Secretary's trip also took him to Turkey, Saudi Arabia, and Qatar, where he discussed the potential for greater coordination between the U.S. and Turkey, a continuing cooperation between the U.S. and Saudi Arabia, and bilateral efforts to address peace in the Middle-East and Afghanistan.
Given that it is widely believed that Former Secretary of State Hillary Clinton is going to be a tough act to follow, how do you think the new Secretary of State John Kerry will stand up to the task? Do you think that his first trip serves as an indication of his likelihood to take a proactive approach to diplomatic relations? Or do you think that he is just doing his job? To what extent does, if any, does his decision to visit eight countries in his first trip weigh into your opinion?
News Source: U.S State Dep't; Newsday.
Photo Source: The Guardian.