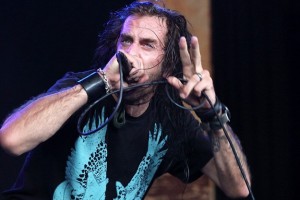 On Tuesday, March 5, 2013, Randy Blythe, a singer in the heavy metal band, Lamb of God, was acquitted of manslaughter charges in a Czech Republic court. Last December, Bltyhe was formally charged with causing the death of a fan after he pushed the fan who rushed the stage during a 2010 show. The fan, 19 year-old Daniel Nosek, fell from the stage and hit his head on the concrete floor. He died from his injuries several weeks later.
Blythe did not learn of Nosek's death until police arrested him at the Prague airport in June 2012 when the band arrived for a concert. He was then held in jail for five weeks before being released on bail because he promised to return for his trial and fight the charges.
At trial, Blythe was facing a possible sentence of up to ten years in prison. He admitted to pushing Nosek, but he did not think that Nosek was harmed. Also at trial, the prosecution had concertgoers testify that Blythe violently pushed Nosek off the stage but there were discrepancies about how the fan got over the security barrier or how he was actually pushed which helped create reasonable doubt. The judge ruled that Blythe's actions did not constitute a crime with no further explanation of the verdict being immediately available. The prosecution appealed the acquittal.
Blythe released a statement after his acquittal stating, "I am an innocent man, but a family suffers the loss of a son, a fan of my band. That is what this whole thing is truly about, not prison, not money, not politics, not ME- it is about a young man who lost his life at just 19 years of age."
This is such a sad ordeal. A fan lost his life at a concert held by one of his favorite bands. I understand why the prosecution will continue to fight for Nosek's unfortunate death but I do not believe that Blythe should be to blame. I am sure most of us have seen some crazy fans at concerts. I know I have seen some artists either push or move fans out of the way when they somehow get up on stage. Blythe was probably just trying to protect himself while trying to continue his performance. He did not have the state of mind that he wanted to kill this fan, or even hurt him. I feel awful for Nosek's family but I agree with the Court's decision to acquit Blythe. What do you think?
SOURCE: Guardian UK, NY Times Blog, MTV News
PHOTO SOURCE: Loudwire