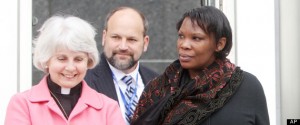 Beatrice Munyenyezi is facing 10 years in prison for lying on immigration forms about her affiliation with the political party that led the Rwandan genocide in 1994.
On February 21, Munyenyezi was found guilty of two counts of fraudulently obtaining her U.S. citizenship status in federal court and stripped of her citizenship. Munyenyezi, emigrated from Rwanda in 1998 where she was a member of the of the Hutu-nationalist MRND political party. The 43 year-old was currently living in New Hampshire and raising her three daughters.
Munyenyezi was first put on trial in New Hampshire last March by U.S. Immigration and Customs Enforcement and Massachusetts U.S. Attorney Carmen Ortiz, who spent years and approximately $3 million investigating the case, Law.com reports. Dozens of witnesses who were transported from central Africa testified that Munyenyezi helped plan the genocide in the Southern Rwandan town of Butare.
The atrocities Munyenyezi was accused of committing include "executing a nun, overseeing a roadblock in the town and deciding who the Interhamwe militia would kill, and feeding gangs of militiamen following gang-rapes." The first case was deemed a mistrial, as defense attorneys David Ruoff and Mark Howard argued the stories lacked credibility and "had been manufactured by Rwanda's current Tutsi-dominated government."
In the second trial, witnesses did not describe Munyenyezi as a "nun-killer," but harped on the fact that Munyenyezi was a member of the Hutu-nationalist MRND political party and lied on it on her immigration forms.  Thus Ruoff notes that "by watering down their case and making her less significant, they mitigated their argument . . . [and] took to heart what the last jury said, who apparently didn't believe any of the witnesses."
Munyenyezi faces up to 10 years in prison at her sentencing in Concord, New Hampshire this June.
According to the Huffington Post, Munyenyezi's husband and his mother were found to be high-ranking members of the Hutu militia party and were convicted by the International Criminal Tribunal on Rwanda and sentenced to life in prison in June 2011 for "genocide, crimes against humanity and war crimes of violence."
Do you think that the punishment fits the crime? Putting aside Munyenyezi's alleged participation in the Hutu militia party, do you think that being convicted of 2 counts of fraudulently obtaining U.S. citizenship status renders a possible 10 year punishment?
SOURCES: Law.com; Huffington Post
PHOTOGRAPH: Huffington Post