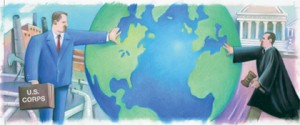 Photo Source: insidecounsel.com
Among the other important parts of the Judiciary Act of 1789, Congress includes a lesser known provision known as the Alien Tort Statute ("ATS"). The statute, less than 50 words, states: "The district courts shall have original jurisdiction of any civil action by an alien for a tort only, committed in violation of the law of nations or a treaty of the United States." The original meaning and purpose of the statute have been debated, but the Supreme Court of the United States, following in the judicial footsteps of the Second Circuit, has limited the statute's application.
For almost a century, the ATS was almost never used. The 1980's saw the ATS be applied to international human rights cases. The more recent cases concern the statute being applied against corporate defendants, usually oil or pharmaceutical companies such as Pfizer.
The case before the Supreme Court was Kiobel v. Royal Dutch Petroleum. The plaintiffs were several Nigerians, who after obtaining asylum in the U.S., sued claiming the two defendants, Royal Dutch Petroleum and Shell Transport and Trading, aided the Nigerian military and police forces in committing various atrocities against Nigerian villages.
The decision, unanimous in judgment but not reasoning, was written by Chief Justice Roberts. He stated a general presumption against extraterritorial application of American law barred the lawsuit, especially since all of the conduct took place in Nigeria. As to the question of corporations, he stated, "Corporations are often present in many countries, and it would reach too far to say mere corporate presence suffices."
According to the Chief Justice, Canada, Germany, Switzerland, the Netherlands and the UK all objected to some claims under the law, and allowing these kinds of suits in American courts could interfere with foreign policy.
The Chief Justice did leave open the possibility of allowing the statute to be applied to piracy, especially since that problem was a concern in 1789.
In the concurring opinion, Justice Breyer acknowledged the piracy question, asking "Who are today's pirates?…Certainly today's pirates include torturers and perpetrators of genocide." He further stated he would allow lawsuits under the law in three instances: 1) when the conduct took place in the U.S. 2) when the defendant is an American citizen and 3) if the conduct affects an "important American national interest" including the prevention of the United States from being a safe harbor for enemies.  He further acknowledged that none of those factors were present in the case at bar.
Sources: New York Times
Supreme Court Opinion: Kiobel v. Royal Dutch Petroleum
-Should the ATS be used to sue corporations who commit crimes abroad? Or does the law attempt to make the United States the marshal of law abroad?
-Does it make a difference that the defendants here did not commit the crimes directly but allegedly only aided a foreign entity in doing so?