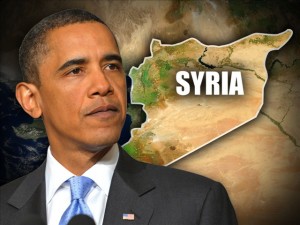 It appears that our own government and the various media outlets around the country leave much to be desired – with respect to transparency – in regards to the information being disseminated about the most recent turn in the Syrian conflict. What is clear, however, is that multiple media outlets and our own national government are reporting that over a thousand Syrian people – one-third of which were likely innocent children – were the victims of a chemical attack that was produced by their own government. Obviously, if this information is accurate, one of the questions becomes what, if any, kind of military response can be expected from the United States. Indeed, within this question lies the inevitable inquiry of what legal obstacles – both domestic and foreign – need to be hurdled before the U.S. can intervene with armed forces.
The President of the United States can – as the commander and chief – deploy our armed forces in one of three situations. Specifically, the president can introduce our military into armed conflict when Congress either declares war on a foreign nation or otherwise provides a statutory framework in which the president can employ armed forces in certain situations. See 50 U.S.C. § 1541(c) (1973). However, the president can also deploy the armed forces into a hostile conflict where "a national emergency [is] created by attack upon the United States, its territories or possessions, or its armed forces." Id. Thus, since the Syrian conflict does not present a national emergency because there was no attack upon the United States, its territories or possession, or its armed forces, any action in Syria necessarily needs approval from Congress.
But even if Congress gives the President approval to intervene in the Syrian conflict in the name of human rights, this action alone would be insufficient for the introduction of armed forces in Syria if we were attempting to adhere to both domestic and international principles of law. Significantly, the United Nations Charter that was enacted in 1945 permits nations to use force against other nations only in two situations. See U.N. Charter art. 2, para 4. (Chapter VII, Articles 43, 51)[1]. The first situation being the privilege of self defense; the second situation allows the use of force against another nation when the Security Council authorizes such force in order to "maintain or restore international peace and security."  Id. While the first situation is inapplicable to the United States if it wants to intervene in the Syrian Conflict, the second situation seems at least plausible, until one realizes that – in order to be in compliance with the United Nations Charter and international law – there would need to be nine (9) affirmative votes for military intervention from other members of the security council, which must include the concurring votes of the other four permanent members of the Security Council of which the United States is a part of. See U.N. Charter art. 2, para 4. (Chapter V, article 27)[2].
Succinctly, there are numerous legal obstacles a country must go through in order to use military force against another nation in the name of human rights. Doesn't that seem – to be polite – a bit cumbersome when it comes to innocent people being slaughtered via chemical warfare by their own government? Don't we all as human beings have a moral obligation to protect the rights of all people to the best of our abilities? Why does a concept them seems so basic and omnipresent in the human conscious appear to have such enormous legal obstacles?