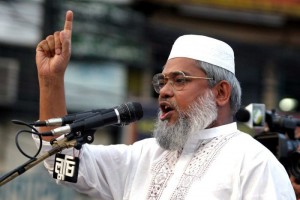 On September 17, 2013, the Supreme Court of Bangladesh reached its final verdict for Abdul Quader Molla and sentenced him to death for mass murder during the 1971 liberation war against Pakistan.
Abdul Quader Molla is a senior Islamic opposition leader who sided with Pakistan during the liberation war but he refuses to accept any involvement or liability for the alleged crimes that occurred during those years.  Molla is also is the fourth-highest leader of the Jamaat-e-Islami party, which is now banned from contesting during the general election.
The surprising part about this ultimate  "death penalty" decision is that the original sentence for the senior Islamic opposition leader was life sentence that was delivered back in February.  However, secular protesters were so angry about this February decision claiming that it was too lenient. The protesters gathered at a square in Dhaka for weeks and accused him of killing hundreds of innocent people during the war. Their ultimate request was the execution of Molla. These unstopped demonstrations forced the parliament to change the war crime laws to allow the prosecution to appeal the original sentence and seek the death penalty in the Supreme Court.
Following this change, the Supreme Court of Bangladesh was able to enhance the original life sentence and impose the death penalty. The defense lawyer was definitely not happy with the verdict.  He said:
We are stunned by the verdict.  This is the firs time in South Asian judicial history that a trial court sentence has been enhanced by a Supreme Court.
It appears that the government was not able to resist a cry and find a middle ground to satisfy the public so the easiest solution that they came up with was to change the law.
Putting aside the fact that Molla was probably responsible for the crimes he was charged with, how fair do you think to enhance the original life sentence and impose the death penalty?  Would it not be considered as trying the person for the same offense twice? Is it acceptable to change the law to enable the court in imposing a sentence that the public asked for? Where should we draw the line between fairness and the public cry?
Sources:
Picture: