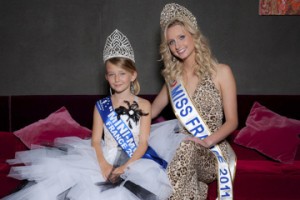 If you're French and looking to be the next Honey Boo Boo, your time may be running out! On September 18th, 2013, the French Senate approved an initial proposal to prohibit girls under the age of sixteen from entering beauty pageants. The French government decided to craft legislation in response to a parliamentary report entitled, "Against Hyper-Sexualization: A New Fight For Equality." The author of the report, Chantal Jouanno, who served as sports minister under President Sarkozy, called for a ban on child-size adult clothing, "such as padded bras and high-heeled shoes and an end to beauty competitions for the under-16s." Jouanno wants her country to demand higher standards for their youths and stated, "Let us not make our girls believe from a very young age that their worth is only judged by their appearance."
The beauty pageant proposal is part of an amendment to a larger French law on sexual equality. The lower house of the French Government, the National Assembly, will review the legislation in November. The National Assembly may or may not retain the beauty pageant ban and the harsh consequences for its violators. The Senate proposal would punish organizers of the banned pageants with incarceration for up to two years and a fine of 30,000 Euros.
The popularity of the beauty pageants in France is nowhere near the level of hysteria as in the United States. The American television network TLC constantly scores high ratings with their reality show "Toddlers & Tiaras." The title tells you everything you need to know. The spinoff, "Honey Boo Boo," has turned the show's pint-sized star into a household name and Internet sensation. Dolla' makes me holla' anyone? Are these television shows, which capture girls caked with makeup and dressed in highly suggestive costumes, just good ol' fashion American fun, or signs of a decaying and highly sexualized society with no limits?
While France has taken steps to protect their minor girls from the supposed dangers of "hyper-sexualization," America has found a way to profit off the very same venture. What are we missing here in America? Whether beauty pageants really debase the morals and emotional platitudes of their minor participants is still a matter of great debate.  Some advocates against the French proposal say pageants help the young participants to build confidence and inspire goal setting, but where is the line between meritorious and just plain improper?
Do you agree with the actions of the French government or are they being over zealous? Do you think the National Assembly with uphold the ban in November?
Why haven't the law makers in America made this an issue requiring legislative action?
Would you enter your child in a beauty pageant?
Picture: Time Magazine
Source: Expatica.com