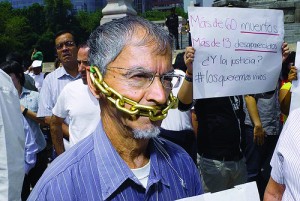 Presently, freedom of the press is far from free in Mexico, and it has not been for the past few years.  Journalists need to be careful about what they publish, their lives depend on it.  The journalists in Mexico have been threatened by the Cartel relentlessly, and some of those threats have come to fruition.
According to Mexico's National Commission on Human Rights, at least 81 journalists have been murdered in Mexico in the last decade, and another 14 have disappeared, and the threats have not ceased.  Media outlets have two choices, continue to do their job and inform the public on organized crime, or look the other way and sacrifice freedom of the press rather than sacrificing their lives.
Sources say that in June 2012, after four Mexican newsrooms were targeted, and the bodies of several news reporters were found mutilated, the Mexican government took action, on paper at least.  But writing words onto paper  is easy, enforcement of those words is what's difficult.  The Mexican Congress passed a constitutional amendment giving the federal government jurisdiction over murders against journalists, so that more extensive measures maybe taken to remedy the violence.  Local authorities were previously responsible for investigating such crimes, but local police have slim resources and are not equipped to fend off the Cartel.
At least 60,000 people died of drug-related violence during the past six years of Mexican President Calderon's reign.  However  the death toll numbers tend to fluctuate, for instance, Mexican newsweekly Proceso published a death count of above 88,000, a number they believe to be more accurate.  Enrique Peña Nieto was inaugurated as Mexico's new president in Dec. of 2012, despite protests from the public.  The new president promises to reduce drug-related violence, but the public and especially the journalists are not breathing easy yet.  Sources say, there were 151 attacks on the media in the first six months of 2013 under President Enrique Pena Nieto.  What do you think about this crime spree against journalists?  Do you think there will be improvement?  How many lives have to be taken before the Cartel is silenced, or the government employs real tactics (as opposed to reassuring words) against organized crime?
Sources: Pbs.org; Aljazeera.com
Photo Source: EJC.com