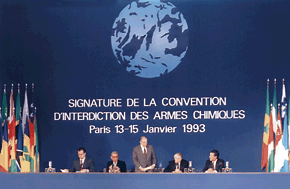 The 1993 Convention on the Prohibition of the Development, Production, Stockpiling and Use of Chemical Weapons and on their Destruction, also known as the Chemical Weapons Convention (CWC), is an international arms control treaty. It is administered by the Organisation for the Prohibition of Chemical Weapons (the OPCW). As of September 30th, the OPCW determined that "58,172, or 81.71%, of the world's declared stockpile of 71,196 metric tons of chemical agent have been destroyed."
The aim of the Chemical Weapons Convention is "to eliminate an entire category of weapons of mass destruction by prohibiting the development, production, acquisition, stockpiling, retention, transfer or use of chemical weapons by States Parties." In addition, "states Parties, in turn, must take the steps necessary to enforce that prohibition in respect of persons (natural or legal) within their jurisdiction."
The case of Bond v. United States, to which the Supreme Court of the United States granted certiorari earlier this year, is set for arguments for November 5, 2013. Carol Anne Bond, a microbiologist, was convicted for attempting to poison her neighbor, and friend, Myrlinda Haynes upon discovering that Haynes was pregnant and that her [Bond's] husband was the father of the baby.
Bond took 10-chlorophenoxarsine from Rohm & Haas (her place of employment), and purchased potassium dichromate. She then spread the mix on Haynes's mailbox, car door handles, and house doorknob. Bond was indicted on two counts of "acquiring, transferring, receiving, retaining, or possessing a chemical weapon", in violation of 18 U.S.C. § 229, the federal statute implementing the CWC treaty. She was additionally charged with two counts of theft of mail matter, in violation of 18 U.S.C. § 1708.
18 U.S.C. § 229 completely criminalizes and bans the use of chemical weapons, other than use for a "peaceful purpose." Bond argues that her attempted poisoning was a "peaceful use of chemicals". Bond further argues that 18 U.S.C. § 229 violates "fair notice" requirements and that it represents a breach of Tenth Amendment protection of state sovereignty. In May, the United States Court of Appeals for the Third Circuit affirmed Bond's conviction. The court explained that the language of the act covers Bond's criminal conduct and rejected her "peaceful use" argument pointing to the assaultive nature of her behavior. The court found that, while it agreed with Bond's argument that "treaty-implementing legislation ought not…stand immune from scrutiny under principles of federalism", it acknowledges that "the Convention is an international agreement with a subject matter that lies at the core of the Treaty Power." In addition, the court found that the 1920 case of Missouri v. Holland "instructs that 'there can be no dispute about the validity of [a] statute' that implements a valid treaty."
This case seems to illustrate an inevitable conflict between international cooperation and constitutional limitations on federal power.  In fact, the first question for the Supreme Court to review deals with this essential doctrine. What do you foresee the court ruling? Should there be a limit to the application of international treaties where such application might intrude on state powers? The Supremacy Clause of the Constitution establishes treaties as the supreme law of the land, should there be an exception to Tenth Amendment limitations on the federal government when it comes to international treaty obligations?
Sources: