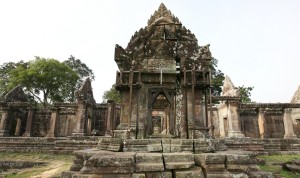 This is update to an earlier blog post that can be found here.
The ICJ awarded Cambodia sovereignty over most of the disputed land around the Preah Vihear temple on its shared border with Thailand after over a century of dispute. The 900-year-old Hindu temple is located on the top of a 525-meter cliff in the Dangrek Mountains, about 500 km northwest of Phnom Penh, the capital of Cambodia. Although a great victory, the court did not give Cambodia all the disputed land, saying it had no jurisdiction to rule on a hill nearby.
The countries have long disputed this with the ICJ awarding Cambodia the temple and its vicinity in 1962, but Thailand disputed ownership of a 4.6 square km of scrub next to the temple in 2008.
Peter Tomka, president of the International Court of Justice, ruled that "In consequence, Thailand was under an obligation to withdraw from that territory the Thai military or police forces or other guards or keepers that were stationed there."
The Thai Patriotic Network, a Thai nationalist group said that they will reject any judgment from the ICJ; with the group previously petitioning the court to throw out the case.
When the UNESCO inscribed the temple on the World Heritage List on behalf of Cambodia this is angered Thai nationalists, which resulted in both sides building up troops in the area. Cambodia sought clarification two years ago after fighting resumed. The violence in April 2011 left 18 people dead and tens of thousands of people displaced.
It is quite important to the international community that Thailand adheres to the International Court of Justice's decision to show their deference for the court and overall good neighborliness to Cambodia. Negotiations will continue as international law experts and diplomats have already commented that this would be time-consuming process and nearly an impossible task. Do you think that Thailand will adhere to this decision? Do you think that the ICJ made the ruled correctly on behalf of Cambodia?
Source:  ICJ
Source: ICJ
Photo: AsiaNews