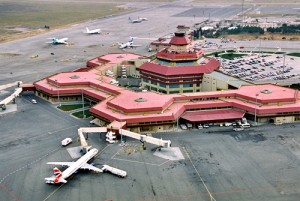 The European Court of Human Rights, for the first time earlier this month, decided on an issue surrounding the deprivation of liberty in regards to airport security checks. The Court in Gahramanov v. Azerbaijan dismissed the airline passenger's case, where he alleged his detention, at a security check at Baku Airport, was unlawful. The Court determined that the time he was held was not excessive and did not deprive him of his liberty.
Gahramanov, who was convicted of criminal offenses in 2002, was stopped at Baku Airport by passport control officials who determined he was on a list of Azerbaijan citizens that were considered suspect. He was held in a room without permission to leave, but was not handcuffed or confined, during which the State Border Services (SBS) attempted to clear up the situation. After the SBS discovered that his name erroneously remained on the suspect list, they allowed him to leave. The time in which Gahramanov was held is not clear: Gahramanov alleged it was for 4 hours while the SBS claimed it was only two. The Court did not resolve this issue.
Gahramanov relies on Article 5 § 1 to contend that he was detained for no legally legitimate reason. The Article states:
"Everyone has the right to liberty and security of person. No one shall be deprived of his liberty save in the following cases and in accordance with a procedure preschribed by law:"
The Court determined that their examination of Article 5 § 1 involved assessing the specific situation of the case and evaluated certain factors such as time, effects, manner and type of the operations used. It determined that the means surrounding the detainment was important to ensure public safety and that the time Gahramanov was detained did not exceed the anticipated time for SBS to go through a background check.
Do you agree with the Court's decision? Do you think the ECHR should have investigated the true timing Gahramanov was held instead of simply stating "it could not have exceeded a few hours"? Do you agree that the interest of public safety should trump one's liberty rights?
Source: [ECHR]Image: [Airports International]