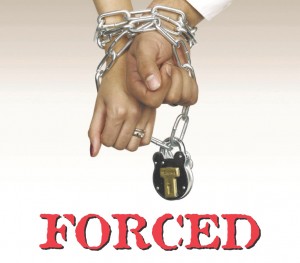 A young British Muslim girl named Ayesha was living in England, and living a normal life. When she turned eighteen, her parents forced her to go to Pakistan, and marry a stranger. For years, he abused and raped her. When she tried to run away, her uncle and her father would hunt her down and they tried to kill her. She was finally able to escape.  Another girl named Sadia got beaten by her father when he discovered that she had a boyfriend. Her father kept bringing men around his age to marry her. Sadia was able to escape before she had to go through with the marriage, but she as well as Ayesha are both in hiding from their families.
A forced marriage is when two parties are to be married and one party does not consent to the union. The participant who does not agree to the matrimony is typically threatened or abused to comply. It differs from an arranged marriage because in an arranged marriage both parties consent, but have the opportunity to refuse to marry. In a forced marriage, there is no refusing. The United Kingdom recognizes forced marriages as a violation of human rights
In 2007, the United Kingdom created the Forced Marriage Civil Protection Act. This Act was designed to help protect people and prevent forced marriages. The Act also institutes protective measures for those who are already in a forced marriage.
According to the Foreign Office Forced Marriage Unit, about 400 cases have been reported, and many cases have gone unreported.  The Department of Children, Schools, and Families have conducted research that there are probably 8,000 cases a year of forced marriages in the England.
The Protection Act provides court orders to be made to prevent a forced marriage, to stop intimidation and violence; and to stop someone from being taken abroad.
There are charities being created to increase awareness and to prevent victims from being taken abroad to be married. Karma Nirvana is a charity with a helpline for victims of forced marriages. The charity tells the victims who call to stick a spoon in their underwear when they are to fly to a different country for the marriage. This enables the victims to be stopped by airline security and be taken to a room to be searched. By taking the victims to another room away from their parents, the victims can tell security that they are being taken out of the country and being forced into a marriage they do not consent to.
Should forcing someone into a forced marriages be a criminal offense in the United Kingdom?
Sources: