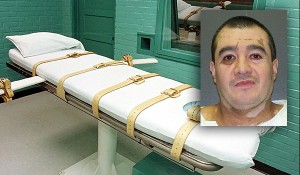 The United States and Mexico have not always had the best relationship with the neighbors in recent times disputing issues such as the Mexican drug cartel and the corrupt governmental officials left to detain them. However, relations are set to become tenser as Texas plans to execute a Mexican citizen on January 22, ignoring a decree set by the ICJ and pleas from current Secretary of State John Kerry.
Edgar Arias Tamayo murdered a Houston police officer in 1994 after the officer detained him for robbery. When the Mexican citizen was arrested he was not informed after his arrest of his right to consular assistance – a violation of the Vienna Convention on Consular Relations. Mexican officials claim that this lack of effective assistance led to the death penalty sentence since Mexican officials were only notified of Tamayo's trial a week prior and they were not adequately able to express that Tamayo is intellectually disabled and brain-damaged, with an IQ of 67.
The ICJ, ruled in 2004 that the US had breached its obligations under the Vienna Convention by failing to inform Tamayo and about 50 other Mexican nationals immediately after their arrest of their right to consular assistance "Avena Decision". The ICJ held that the U.S. "shall provide, by means of its own choosing, review and reconsideration of the conviction and sentence, so as to allow full weight to be given to the violation of the rights set forth in the Convention." The United States never did so in the case of Tamayo and two other Mexicans who were named in in opinion who were executed in 2011.
Then President George W. Bush asserted that state courts were bound by ICJ decisions but the US Supreme Court ruled in Medellín v.  Texas that although the Avena decision is a binding under international law, the president does not have the power the force states to comply with ICJ rulings without a Congressional statute.
Secretary of State John Kerry has acknowledged the binding nature of the ICJ ruling and has stated setting this execution would be "extremely detrimental to the interests of the United States", to its relations with Mexico and other allies, and "could impact the way American citizens are treated in other countries".
Was Tamayo awarded a fair trial? Does the United States have the right to decide what ICJ rulings it choses to be bound to? How is this going to affect American relations or America's relations with the international community as a whole?