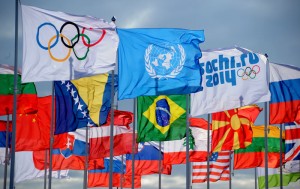 Putin declares that the Sochi Winter Olympics are open! And with that the ceremony has begun in Russia on February 7, 2014. It was not the smoothest start, but I am not referring to the athletic competition. Many terror threats have been reported. United States authorities are working with Russia and other countries to try to investigate the possible threats related to the Sochi Olympics. A United States official stated that the threats varied in credibility. The most talked about threat was the toothpaste tube terror concern.
"The biggest source of those threats is the group Imarat Kavkaz in Russia, which has publicly said it will try to disrupt the Games, the official said on Thursday." United States Homeland Security Committee Chairman Michael McCaul said that the threat of explosives being concealed in toothpaste originated "from the leader of the Chechen rebel extremists."
The United States has already been warned not to wear their uniforms, or clothes representing the United States when they go outside of the Olympic Village. Every threat should be taken seriously, and these particular threats have been.
French officials took the threats to heart when they decided to arrest two Chechen women this week. Women have not traditionally heavily participated in terrorism, but the "black widow" threat from December had the French intelligence examine the connection of the women to terrorism. The women were identified as the widow and the sister of Chechen Jihadist Khamzat Chemilev, also known as the "emir of Grozny" who was killed by Russians in 2010. "There was concern the women in France would travel to Russia – and more specifically the Sochi area – to launch suicide attacks during the Olympics". Therefore, many preventative measures have been taken, even though the two women were discharged soon after their initial detention for lack of evidence. Do you agree that there should be added security during the Sochi Olympics? If God forbid there ever were an attack in the Olympic Village, with the legion of countries present, would global measures be taken against the terrorists?
Source: CNN.com
Picture: Indianexpress.com