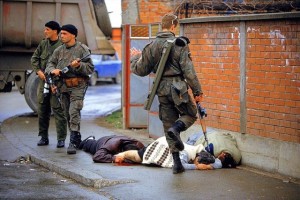 The International Court of Justice (ICJ) is going to hear arguments next month from Monday, March 3 to Tuesday, April 1 in a Croatia v Serbia genocide case.
This stems from the 1999 Croatian charge of Serbian genocide in relation to Zagreb's (the largest city in Croatia) 1991-1995 war of independence that resulted in the death of about 20,000 people.
The war of independence was fought between Croat forces that were loyal to the government of Croatia (which had declared independence from the Socialist Federal Republic of Yugoslavia) and the Serb-controlled Yugoslav People's Army (JNA) and local Serb forces. Croatia sought to leave Yugoslavia and form a sovereign country. Other ethnic Serbs living in Croatia, supported by Serbia opposed the secession and wanted Croatia to remain a part of Yugoslavia.
In the ICJ proceedings Croatia is seeks to establish that Serbia engaged in "ethnic cleansing" which was elaborated as "a form of genocide which resulted in large numbers of Croatian citizens being displaced, killed, tortured or illegally detained, as well as extensive property destruction."
This would be fairly new ground for the ICJ as they have only declared a genocide once before in 2007 regarding acts in Bosnia in 1995 which resulted in 8,000 Muslim men and boys were murdered by Bosnian Serb troops after they invaded an enclave shielded by the United Nations. The international community was outraged when the bodies of these innocent nationals were dumped in mass graves. This is considered by many in the international community to be the "worst slaughter since the Second World War."
The general public along with the media are free to attend the proceedings with seating to be governed in a "first-come, first-served" basis. The general public will be allowed to attend the hearings on condition that it does not disclose the content of testimony before the end of the oral proceedings on Tuesday 1 April 2014.
How do you think the ICJ will rule in this case? Will the testimony be sufficient to establish that Serbian acts constituted ethnic cleansing or can their acts be classified as casualties of an unfortunate "civil war"?
Photo: Courtesy of Ron Haviv, Bloomberg