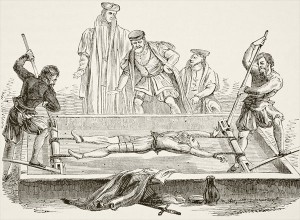 On January 14, 2014, the United Kingdom House of Lords upheld a decision that provided immunity to Saudi Arabia when allegations of torture were proffered against the state. The cases of Mr. Jones, Mr. Mitchell, Mr. Sampson and Mr. Walker were consolidated and put to the courts after each complained of torture after their detention. Mr. Jones' case began when he was detained by agents at a hospital, after being treated for injuries suffered from a bomb exploding outside a bookshop in Riyadh. He was unlawfully detained for 67 days, where he was subjected to beatings on his palms, feet, arms legs, face, given mind altering drugs, shackled at his hands and feet, suspended for prolonged periods of times and sleep deprived. Medical examinations corroborated his story and Mr. Jones sought redress; however the Saudi Arabia applied to have the claim struck because of governmental immunity and that the English Courts had no jurisdiction. The Master of the High Court held that Saudi Arabia was entitled to immunity under section 1(1) of the State Immunity Act 1978.
Mr. Mitchell, Mr. Sampson and Mr. Walker suffered the same fate after they were subjected to similar torture, which also include rape, and were denied redress on the same grounds. After Court of Appeals dismissed Mr. Jones' complaint and found against the Saudi Arabia in the subsequent complaint, appeals reached the United Kingdom House of Lords. Lord Bingham was noted as saying that there was a wealth of authority in the United Kingdom to "show that a state was entitled to claim immunity for its servants or agents and that the State's right to immunity could not be circumvented by suing them instead."  The House of the Lords upheld a general rule of State immunity and that international law did not admit of any exception to the general rule of immunity ratione materiae for State Officials in sphere of civil claims where immunity is enjoyed by the State itself.
Despite the overreaching rule of immunity for state officials from civil penalties for torture, the House of the Lords urged that courts continue to look at the issue and see what other rules and laws can be set forth. This is a devastating blow to human rights and the respect for persons the international community is trying to achieve. By maintaining a permissive view of torture, the international community is allowing justice to remain a farce and for people to get away with horrendous crimes. People that have been subjected to this evil have no redress criminally and now they have no claim civilly, which spits in the face of the world. Governments are absolving culpability for what they do and there is no one to oppose them for fear of the same types of evils Mr. Jones faced. Government's need to be held accountable and individuals need to realize that it's not right for a government to circumvent the law under the guise of national security. Without accountability, there will be tyranny.
How should have the House of Lords come out? Is there any similarity between the UK's permissive nature regarding torture and the United States? How else can we combat and prevent torture?
Source: HUDOC