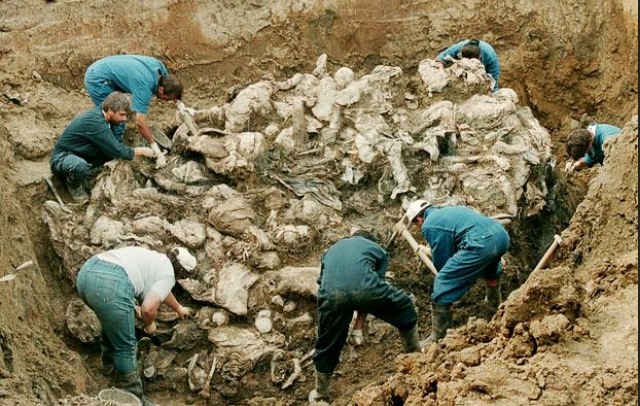 General Ratko Mladic, also known as "Butcher of Bosnia," is appearing at the International Criminal Tribunal of the former Yugoslavia where Radovan Karadžić, his commander in chief, is also on trial. Mladic was subpoenaed to testify in Karadžić's trial.  Karadžić was arrested in July of 2008 and Mladic was arrested in May of 2011.
Both Mladic and Karadžić are said to be responsible for the terror campaign to rid multi-ethnic Bosnia of Croatians and Muslims in order to create a "Greater Serbia" from the spring of 1992 to 1995. Despite being subpoenaed by the court, Mladic refused to testify at the trial of his commander Karadžić. "I do not want to testify and refuse to testify for reasons of my health and that it would prejudice my own case," Mladic told the International Criminal Tribunal for the former Yugoslavia.
Despite being on trial for many human rights violations, Ratko Mladic continued to show his disdain for non-Serbians. He taunted victims and survivors even in court as he made a slow and deliberate gesture aiming at "the bereaved mother in the public gallery – two fingers pressed together and drawn in a cutting motion across his throat." "It was in this way that Ratko Mladic – the man known as the "Butcher of Bosnia" and who many believe responsible for the first genocide on Europe's soil since the Holocaust – addressed one of those who had come to see him face justice."
Radovan Karadžić and all his subordinates including Ratko Mladic must be held accountable for all of the egregious human rights violations they participated in. The victims, the survivors, and the world at large deserve justice, and hopefully the Trial Court of the ICTY will give them what they deserve. Do you think that Ratko Mladic should be able to not testify to the trial of Radovan Karadžić? What do you think about how Mladic reacted in Court?
Sources: ICTY.org, LexisNexis.com, LexisNexis.com
Picture Source: BosniaGenocide.wordpress.com