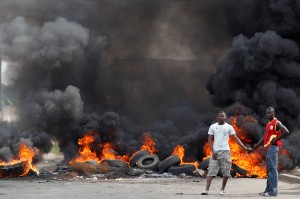 Today, on March 22, 2014, Charles Blé Goudé was surrendered to the International Criminal Court by the national authorities of Côte d´Ivoire following a warrant of arrest issued by the ICC on December 21, 2011.  He is being transferred to the ICC detention Centre at The Hague, Netherlands to await a hearing from the Pre-trial Chamber.
Charles Blé Goudé, national of Côte d'Ivoire, 42 years of age, allegedly is a co-perpetrator for four counts of crimes against humanity that occurred between December 16, 2010 – April 12, 2011, including murder, rape and other forms of sexual violence, persecution, and other inhuman acts, allegedly committed in the territory of Côte d'Ivoire in Africa. The violence resulted in the deaths of over 3,000 people over the six-month period.
Hundreds of people fled from the violence in the country's post-election crisis, and have returned when the violence ceased to find that their land has been illegally taken over.  The Human Rights Watch conducted more than 230 interviews regarding the conflict, including 117 interviews with victims of displacement-related land dispossession in December of 2012.  Land conflict is at the heart of region's decade of grave human rights abuses.
The Prosecutor of the International Criminal Court, Mrs. Fatou Bensouda welcomed the news of the transfer of Charles Blé Goudé to the custody of the ICC.  She stated, "[w]e are a step closer in helping to unveil the full truth in one of Côte d'Ivoire's worst episodes of mass violence in recent history.  Those who use violence and commit mass crimes against civilians in pursuit of power must be held accountable.  Ivorian victims who suffered immensely deserve no less," said Prosecutor Bensouda.
What do you think about Charles Blé Goudé being transferred to International Criminal Court?  Do you think that this move will help the territory of Côte d´Ivoire rebuild and work out the land disputes plaguing the region?  Do you think justice will be served, and that the displaced citizens will finally be able to get their property back?
Picture Source: Inapache.boston.com