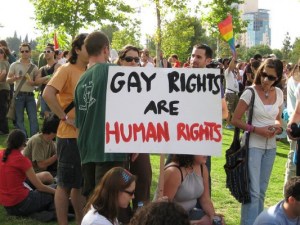 Ljubljana v. Slovenia concerned an article bashing a parliamentarian who publically promoted homosexual stereotyping. The plaintiff, Ljubljana, is a Slovenian private company and the publisher of a weekly magazine called Mladina. In June of 2005 the publisher issued an article criticizing a member of the parliament for his remarks and conduct during a parliamentary debate concerning the legal recognition of same-sex relationships. "The parliamentarian expressed the opinion that homosexuals were generally undesirable, whether as children, same-sex couples or parents. He imitated a homosexual man, picking up his children from school, using effeminate speech and gestures."
The author of the article in Mladina was far from impressed by the parliamentarian's theatrics, and he described the parliamentarian's conduct as that "of 'a cerebal bankrupt' who, in a country with less limited human resources, would not be able to find work even as a school janitor."
The parliamentarian sued the publisher in August 2005, claiming that the published article was offensive and caused him severe emotional distress. The Slovenian courts acknowledged the importance of the publisher's freedom of expression, and held that the publisher was not prohibited from criticizing the parliamentarian, but calling the parliamentarian a "cerebral bankrupt" was too offensive, and amounted to a personal attack. The court ordered the publisher to pay $2,921 euros in damages to the parliamentarian.
The publisher appealed claiming that company's right to freedom of expression was violated under Article 10 of the European Convention on Human Rights. The European Court of Human Rights reversed the lower court's decision, finding that it's decision interfered with the publisher's right to freedom of expression. The Court stated that journalists are required to respect certain boundaries, including the reputation and rights of others. However, journalists have a duty to inform the public of matters pertaining to public interest, thus the article was permissible.
The statement made by the publisher in the article was a reply to the parliamentarian's own public remarks and conduct that could be regarded as a mockery of homosexuals. The Court ordered Slovenia to pay Ljubljana the $2,921.05 euros previously paid to the parliamentarian, and an additional $5,850.29 to cover costs and expenses. Do you agree with the court's holding in this case?
Source: HUDOC
Picture source: Bedazzledthoughts