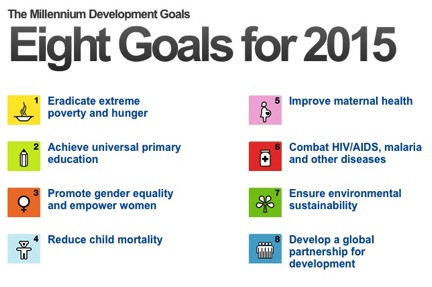 Poverty remains one of the biggest challenges in our world today.
Despite continuous "remarkable economic progress in emerging and developing countries" the fight against poverty continues. Factors such as conflict, climate change, health pandemics, food insecurity, and financial instability threaten development in both the developed and developing countries of our world.
Secretary General Ban Ki-moon visited Mexico this past week for the first High-level Meeting of the Global Partnership for Effective Development Cooperation, which is taking place in Mexico City. In his opening speech, Secretary General Ban Ki-moon urged "for a renewed global partnership to advance sustainable development and a life of dignity for all."
Three years ago, the leaders of our world made commitments toward global development at the Fourth High-level Forum on Aid Effectiveness, held in Busan, Republic of Korea. There, world leaders came together to assess progress in improving the quality of aid and further the effectiveness of the Millennium Development Goals (MDGs).
Fourteen years ago, in 2000, "189 nations made a promise to free people from extreme poverty and multiple deprivations [by the year 2015]. This pledge turned into the eight Millennium Development Goals." With 1.7 years to go, it is no wonder that Secretary General Ban Ki-moon is reminding the international community of its commitment. "Since [the establishment of the MDGs], we have made important progress", he went on to say in his opening speech, "but we have not done enough."
Secretary General Ban Ki-moon's urge for a renewed global alliance stresses a need for "greater progress…to increase country ownership, accountability, predictability and flexibility in how aid is provided." One of his main concerns seems to be financing. "Critically," he said, "we must ensure the financing to match our ambitions."
In addition to money, Secretary General Ban Ki-moon also spoke about a "post-2015 development agenda." But I wonder how close are we to accomplishing the MDGs? If money is concern now, how can our world leaders ensure that, assuming the MGGs are accomplished, new goals can be set out and accomplished?
Yes, many economic, political, social and technological developments have revolutionized the world in which we live, but there is no doubt that poverty, inequality and hunger persist.
What do you think? What does effective aid look like? Will there ever be a poverty free world?
SOURCES
Fourth High Level Forum on Aid Effectiveness
The Busan Partnership for Effective Development Co-operation