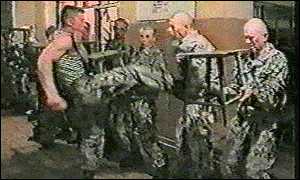 The Russian authorities failed to protect a new recruit from his fellow recruits during his military service. On April 24, 2014, the European Court of Human Rights in the case of Perevedentsevy v. Russia, held, unanimously, that there had been two violations of Article 2 (right to life and investigation) of the European Convention on Human Rights.
On February 16, 2004, 19-year old recruit Mikhail Perevedentsev, who was in the midst of serving his two years' mandatory military service, was found dead hanging by a noose around his neck. His parents, the applicants in this case, do not believe that their son committed suicide voluntairly. Instead, the parents allege that the bullying that took place under a system referred to as dedovshchina played a major role in their son's death. Under this system, the senior recruits torment the newer recruits, and have been known to go to extremes and subject new recruits to extortion, beatings and sleep deprivation.
Investigations ensued after the death of Perevedentsev, and on the basis of the evidence submitted, the prosecuting authorities concluded that Perevedentsev had committed suicide due to his fragile psychological makeup, and because he was scared of being transferred back into the hostile environment amongst the senior recruits.
The applicants submitted that their son had had no reason to commit suicide, unless provoked. They relied on letters he had written to them just before his death in which he threatened to run away – but certainly not take his own life – on account of the abuse and extortion to which he was being subjected.
Relying on Article 2 (right to life) the applicants submitted that they did believed that the death of their son was attributed to the bullying he had endured throughout his military service. The European Court of Human Rights agreed, and unanimously held that the State had failed to protect the life of Mikhail Perevedentsev. "The authorities had to have been aware that he had psychological difficulties and that dedovshchina was rife in the Russian armed forces, bringing about lawlessness and gross abuse of human rights."
The Court held further held that Russia was to pay the applicants $40,000 euros in respect of non-pecuniary damage and $6,380 euros for costs and expenses. Were you aware that this type of bullying took place in the military? Do you agree with the Court's decision in this case?
Source: HUDOC
Picture: BBCNews