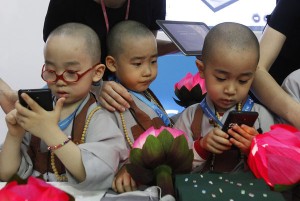 On April 23, 2014, the United Nations education agency published a new report, Reading in the Mobile Era,  on the role of mobile devices in advancing literacy and learning in developing countries. According to the report, even in countries with high illiteracy and low physical text rates, large number of people read books and stories on small screen devices.  The report reveals that hundreds of thousands of people use mobile technology for various reasons, but the primary reason is that it is convenient and easily accessible.  Other reasons include affordability, preference, and lack of access to books.
The UN Educational, Scientific and Cultural Organization (UNESCO) points out that 774 million people worldwide, including 123 million youth, cannot read or write, and this is often the result of having insufficient sources.  However, this report shows that even in countries with extreme poverty, mobile technology is increasingly common while books are rare.  UNESCO urges that mobile technology can really help spread reading and literacy around the world, even to those places where books cannot reach. Further, the UN International Telecommunication estimates that of the 7 billion people on Earth, 6 billion have access to a mobile phone.
UNESCO conducted this study in seven developing countries – Ethiopia, Ghana, India, Nigeria, Pakistan, Uganda, and Zimbabwe.  The study reveals that large number of people read stories to children from mobile phones.  The study is intended to guide Governments, organizations, and individuals who wish to use mobile technology as the primary source for reading and education. The study emphasizes the importance of improving the diversity of mobile reading content.  In this way, it aims to reach specific target groups, such as parents and teachers.
Mobile technology seems to achieve the result that books were not able to for centuries.  It provides an effective pathway to solve the problem of illiteracy because unlike books, it appears to be easily accessible and at a lower cost.
Based on the result of this study, what do you think the next step that the UN should take in advancing reading and literacy around the world?  Do you think it is good for a child to read from a small screen?  When you compare mobile technology with books, which one would you really choose to read from?
Source:
Picture: