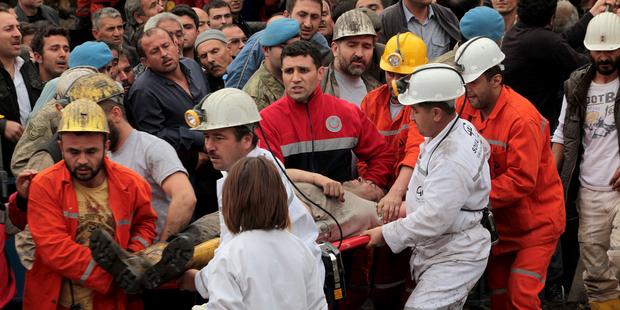 On May 13, 2014, a coal mine in Soma, Turkey exploded resulting hundreds of deaths and serious injuries.  According to the most recent official report, 301 mineworkers died, and many were injured.  At the time of the explosion, there were 800 workers on the site so some of the workers' whereabouts are unknown as of today, and the number of deaths is expected to rise.  Amnesty International urged Turkish authorities to investigate this catastrophic coal mine explosion thoroughly and pointed out Turkish government could have prevented this tragedy.  Several mine workers who survived the explosion confirmed concerns raised by Amnesty International and reported that the authorities knew about unsafe working conditions of the site.  According to workers, their attempts to warn the authorities and urge them to take precautions failed several times.  Andrew Gardner, researcher on Turkey at Amnesty International pointed out that an impartial investigation is necessary, and remedies must be available to the survivors and victims' relatives.  He further emphasized that Soma Holding must take full responsibility of this process, and public must be notified about investigation results.
Interestingly enough, the opposition Republican People's Party (CHP) submitted a motion to the Turkish Grand National Assembly (TBMM) last year to investigate work-related accidents at coal mines, including Soma.  Even though the proposal was approved by all of the three opposition parties, the ruling Justice and Development Party (AKP) voted against the motion. Only two weeks before the explosion in Soma, this proposal was rejected in the parliament.
Turkey appears to have the worst safety record in terms of mining accidents and explosion in Europe and the third worst in the world.  Since 2002, which is when the Justice and Development Party (AKP) led by Recep Tayyip Erdogan, the current Prime Minister, took over the office, work-related accidents has been reported to increase by 40%.  More than 11,000 people died as a result of work-related accidents since 2002.
Nearly one full day after the explosion, Prime Minister Erdogan compared this tragedy to other mining accidents around the world, which occurred in the late 19th century in effort to prove that "mine accidents are normal globally."  Among many, he gave examples from England, Germany, and the United States.  However, public was outraged by these statements, and many criticized Erdogan claiming that he was not sharing grievances of victims' relatives and survivors of the explosion.
The most recent coal mine explosion before Soma happened in 1992 at a coal mine in the Black Sea province of Zonguldak in which 263 mine workers died.  It appears that work-related accidents repeatedly happen in Turkey, and there are no effective precautions taken so far to prevent tragedies, like the one happened in Soma. Considering the proposal submitted by the opposition party concerning work-related accidents and Turkey's long history of unsafe working conditions, do you think the explosion was really an "accident" or it was the result of negligence by the authorities, including Soma Holding and Turkish government? How do you think international community can play a role in making sure that such accidents do not happen in Turkey in the future?  Do you think privatization of coal mines in Turkey has an effect on this tragic outcome?
Sources:
Picture: