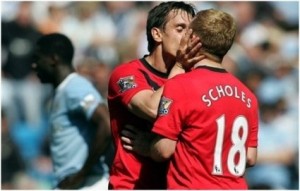 With the World Cup winding down, it would be high time to thinking of the future and seeing where the coming years World Cups will be held to ensure your chance to see one of the greatest sports in the world. Sadly, attending the World Cup will be a fantasy for those of the LGBTQIA community for the next two year.
In 2018, the World Cup is poised to be hosted by the ever popular Russian Federation, which in the past year has expedited anti-homosexual legislation to the nth degree.  For starters, Russia has passed a law banning public advocacy for the rights of homosexual. This new law claims to guard the ever looming threat of homosexuals recruiting children into their cause. Moreover, this state-sanctioned discrimination is bolstered by public support, who silence any potential advocates. Anyone who dares to speak out for homosexuals suffer brutal beatings and intolerance. While this might spark athletes to begin speaking out against Russia's homophobia, as in demonstrations during the Winter Olympics last year, it may not be enough to undo the horrors that homosexuals have suffered at the hands of the Russia people (even though it is a start).
In 2022, the World Cup will be hosted by the ever popular Qatar who not only advocates for homosexuals being punished for being homosexual, but supports it through sentences up to seven years for homosexual conduct. Luckily foreigners will only have to suffer through floggings for portraying the love they have for their partners. Both these decisions to choose Russia and Qatar are equally upsetting because of FIFA's dedication to equality and the promotion of peace, unity, and tolerance for all people, but by giving these countries the opportunity to parade themselves on the word stage in any positive light is implicitly stating that their conduct is acceptable and makes everyone believe that FIFA is being complicit toward oppressive governments. A stand must be taken and solidarity amongst FIFA and the LGBTQIA must come now to show the world that it will not tolerate injustice and oppression. These countries are denying their citizens ability to love one another and are causing turmoil and unrest under the guise of lies and their own propaganda.
What should FIFA do in face of these issues? Should the LGBTQIA protest FIFA's decision? Would the protest be effective? Should the internal community come together to stop FIFA from making this decision?
Source: The National Journal