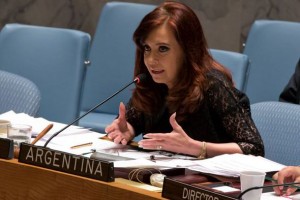 In 2001, Argentina defaulted on a $100 billion. In 2005 to 2010, Argentina offered holders of its defaulted debt "exchange bonds". 93% of the old bondholders accepted the offer. However, the 7% that did not accept is suing Argentina because they want to get paid before the "exchange bonds". Bank of New York Mellon ("BNY Mellon") acts as a trustee for holders of Argentina bonds. When Argentina transferred $559 million BNY Mellon to pay the exchange bonds, Justice Griesa blocked the banks transfer until the holders are paid.
Argentina agreed, within some bond contracts, that New York Law takes control of any possible disputes. Ironically, Argentina recently asked UN's highest court, International Court of Justice, to hear a lawsuit they want to bring against the U.S.. Unless the U.S. consents to this jurisdiction, the U.N. will not hear the case. In 1986, the U.S. withdrew from forced jurisdiction. It is very unlikely that the U.S. will consent.
On Friday, August 8, 2014, Federal District Judge, Thomas P. Griesa, informed Argentina that he is considering a contempt order. This came about after Justice Griesa warned Argentina to stop making public statements "that are false and misleading."  Ordering contempt against a foreign sovereign becomes very tricky. Think about it, how can you place a whole country behind bars; however, contempt sanction may be allowed. There are federal courts that have imposed contempt sanctions on foreign sovereign.  See FG Hemisphere Associates, LLC v. Democratic Republic of Congo, 637 F.3d 373 (D.C. Cir. 2011).
Picture: Argentina
Case:  NML Capital Ltd. v. Republic of Argentina, 08-cv-06978, U.S. District Court, Southern District of New York (Manhattan).