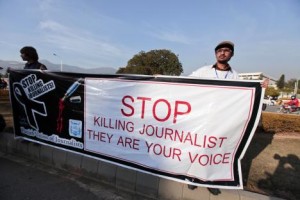 Brave journalists on the front lines of conflict situations are more and more frequently being used as pawns in the center of these conflicts. On September 2, 2014, ISIS circulated yet another horrific video sending a "second message to America to halt air strikes." The U.S. verified the authenticity of the video portraying the execution of a second U.S. journalist, Steven Sotloff. This reoccurring issue of violence against journalists in conflict areas should be addressed specifically and immediately, or the culprits of this violence will believe there is no accountability for their crimes.
During a press release on Monday (September 1st), a group of UN international human rights experts rightfully implored for "stronger protection of journalists covering conflicts." Among this group included the UN Special Rapporteur on Freedom of Opinion and Expression, the Organization for Security and Co-Operation in Europe (OSCE), and the Organization of American States (OAS). The experts accentuated  the sixty-plus journalists killed in Syria over the past three years; the minimum of seven captive journalists held under ISIS now, along with the common kidnappings, illicit detainments, and executions.
There are some existing avenues of protection for journalists. For example, in 2012 the UN implemented a plan of action regarding the "Safety of Journalists and Issue of Impunity," aiming toward better protection of journalists and freedom of expression. Also, under protocol of the Third Geneva Convention, journalists are considered civilians, and therefore parties to conflict are prohibited from committing acts of violence against them. It is apparent, however, these avenues are too few and failing.
According to a report to the Permanent Council on June 19, 2014 presented by OSCE, countless journalists have been assaulted physically or emotionally and at least four journalists were killed since the beginning of the Ukraine conflict. The United Nations Educational, Scientific and Cultural Organization (UNESCO) has also reported, in angst, regarding two additional killings in the past two months alone. Abdullah Murtaja, a journalist killed on August 25th in the "shelling" of the al-Shujaiyya neighborhood of Gaza city, and Carlos José Orellana, local news cameraman, stabbed in July in the town of Santiago de María. Not to mention the recent and quite public beheading of U.S. journalist James Foley by the ISIS, which Human Rights Watch (JRW) and Amnesty International (AI) are calling a war crime.
"Journalists must be able to carry out their work in safe conditions and their civilian status needs to be respected at all times. Society needs to be kept informed of events, never more so than when living in the shadow of conflict," asserts UNESCO.
It has become almost mechanical to simply push a button on a television remote, click a link on a computer screen, or scroll through a feed on a smart phone for the vast instant access to world news. For the majority of the world it comes at no cost to read up on the day-to-day conflicts or tragedies on a global scale. For many journalists, however, this news comes at a deadly cost.
How many more deaths will it take for a better solution to arise? Are these demands for stronger protection feasible? What kind of legislation or action (if any) can better protect these journalists on the front lines of world conflicts? What repercussions can be implemented in finding justice for the lives already lost, for hindering the freedom of expression and access thereof?
Sources:
Jurist, Bloomberg Law, International Committee of the Red Cross, CNN, OSCE, UNESCO, UN News Centre
Picture: ifex