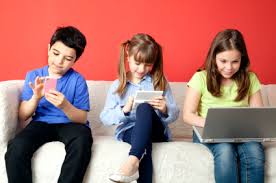 Times have changed. Children are growing up in a society in which people rarely write letters, or meet face to face to resolve issues. In this day and age, children prefer to text under their desks instead of scribbling and tossing notes back and forth during class. Technology can be very helpful, but how much is too much?
It seems that every parent struggles with setting the rules on his child's use of technology. Sure, the Internet made researching and writing essays for school very convenient, but how safe is it to let your child browse the internet without supervision? This topic has stirred some heated conversations over the years. This may be one of the reasons why the United Nations Agencies partnered with Child Online Protection Initiative, to release a set of guidelines on promoting the safety of children using the Internet.
The Convention on the Rights of the Child, Article 13 states that "the child shall have the right to freedom of expression; this right shall include freedom to seek, receive and impart information and ideas of all kinds, regardless of frontiers, either orally, in writing or in print, in the form of art, or through any other media of the child's choice." Children should therefore not be deprived of the right to access information important for their growth and well-being, but the content must be appropriate for the age group.
The guidelines underline both beneficial and harmful effects of technology on children's lives. They provide a list of the major problems including cyberbullying and access to inappropriate content. More importantly, the guidelines call on the information and communication technology industry (ICT) to implement changes to aid in protecting online presence of children.
Both parties believe that the role of parent participation in these efforts is crucial. The guidelines stress the importance of parental control tools and awareness-raising education for caregivers. There are several websites providing useful tips for parents on keeping their children safe in the online environment. Popular parental control tools include obtaining all of the children's passwords and not allowing messaging apps till the age of 13. The online world will likely never be an entirely safe environment, but combining our efforts could get us very close to the ideal.

How can we help ensure the safety of children online? What laws should be enacted to support these efforts?
UN News Centre Guidelines for Online Safety eKids Consulting iKeepSafe UNICEF