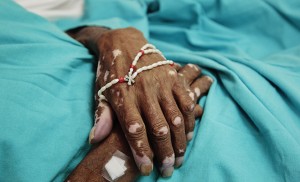 Every year in Mexico about 600,000 people die from chronic illnesses, such as heart and lung diseases, HIV or cancer. Patients battling these chronic illnesses must cope with crippling symptoms such as pain, breathlessness, anxiety, and depression. Access to palliative care and pain medication is critical in order to provide patients with proper and humane care. During the end of life, patients want to enjoy time with their friends and family; rather, than bed ridden with chronic pain.
In 2009, Mexico passed a law that grants patients given less than six months to live access to palliative care. Palliative care is the treatment of a specialized medicine dose to severely or terminally ill patients. Human Rights Watch highlights Remedios, a 73-year patient with pancreatic cancer, who lives in a small town about three hours away from Mexico City. Remedios was bedridden and was unable to eat or spend anytime with her family. After being referred to the National Cancer Institute in Mexico City she was informed that her cancer was terminal and sent her to the palliative care team. Remedios was given a low dose of morphine and she was able to control her pain, eat again, and spend time with her family. Remedios has to take several buses to get to Mexico City, although this is manageable, as her symptoms get worse the trip will become extremely hard. While palliative care treatment has increased greatly in Mexico, it still needs to provide more accessible treatment to Mexican citizens.
The access to palliative care in Mexico is still limited, with only a few dozen public healthcare centers that officer the specialized care, and fewer provide home palliative care. The cost of treatment is relatively low, for example morphine costs pennies per dose; rather, the cost of training staff can be costly. Others are concerned that the drugs given for treatment will be sold on the streets. Some doctors will not prescribe morphine because the prescription includes the patients' address, and doctors do not want this information to end up in the wrong hands.
The World Health Organization considers palliative care an essential part of healthcare systems and recommends that all countries implement healthcare policies that promote patient access to palliative care. Article 5 of the Universal Declaration of Human Rights states, "No one shall be subjected to torture or to cruel, inhuman or degrading treatment or punishment." I believe that the denial of palliative care to chronically or terminally ill patients is cruel and inhuman treatment. Subjecting terminally ill patients to unnecessary pain and a lack of treatment is a violation of human rights.
Do you think a failure to provide a countries' citizens access to palliative care is a violation of human rights? Does every human have the right to die with dignity?
Source: Human Rights Watch – Summary; Human Rights Watch; The Universal Declaration of Human Rights
Picture: Human Rights Watch