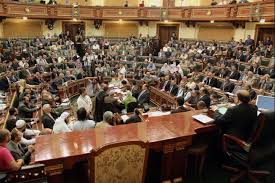 On October 27, Egyptian President Abdel Fattah al-Sisi put forth a law that extensively furthered the scope of matters that can be handled by Egyptian military courts.  The new decree, Law 136 of 2014 for the Securing and Protection of Public and Vital Facilities, states that the military "shall offer assistance to the police and fully coordinate with them in securing and protecting public and vital facilities."  Even more disturbing is that this incorporates electricity stations, gas pipelines, oil wells, railroads, road networks, bridges, and any other state-owned property. Finally, Law 136 specifically these public facilities under military jurisdiction for the next two years and conditions that all state prosecutors are to pass on any crimes committed at any of these places to the military.
Military judges have presided over trials of civilians in Egypt for decades, despite efforts by activists and some politicians to eliminate the practice. Dissenters fear that this new law will exponentially increase the amount of civilian protestors and government opponents being tried by military tribunals. Egypt's military courts, which already had questionable respect for due process guarantees displayed by normal courts, have heard over 11,000 cases involving civilians since the 2011 uprising. Sarah Leah Whitson, Human Rights Watch Middle East and North Africa director, was not afraid to voice her opinion on the matter. She stated, "This law represents another nail in the coffin of justice in Egypt. Its absurdly broad provisions mean that many more civilians who engage in protests can now expect to face trial before uniformed judges subject to the orders of their military superiors." Before Law 136, Egypt's constitution and code of military justice theoretically limited military courts to cases that directly affected the armed forces, though for the last three decades, the president was allowed to refer civilians to the tribunals.
To put in this in perspective, I ask you to imagine if a similar situation ever arose in the United States. Many people take our constitutional guarantees for granted such as the right to free speech. We enjoy the protection of a judicial system in which every court, judge, and attorney must respect our constitutional rights no matter how much we may protest or dislike governmental actions. The Egyptian decree and its ramifications leave Egyptian civilians with basically no method of fighting back against a government that is constantly abusing their basic human rights. Law 136 can be seen as "scare tactic" to deter citizens from opposing governmental action and this decree has no place in international law.
How can civilians bring any matter into court that speaks negatively about Egyptian governmental actions if they have to fear being placed in front of a military tribunal? Can the international community, including international courts, provide these civilians with even a scintilla of justice?
Sources: Human Rights Watch, Ahram Online, Aswat Masriya.