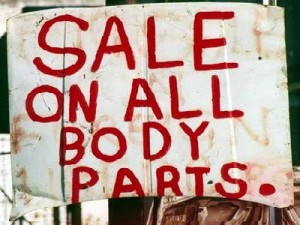 A "baby's head, a baby's foot sliced into three parts, a heart and a sheet of skin with tattoo markings" were found in parcels being shipped to U.S at a shipping office in Bangkok, Thailand. The suspects are two Americans who have since fled the country. The packages were marked children's toys but determined to be body parts after the package was scanned as part of routine security checks at the local shipping center.
Bangkok's Siriraj Hospital has confirmed that the body parts were stolen from the hospital's Medical Museum which exhibits preserved human remains, most of them from murder victims.
Trafficking in organ trade is an organized crime, involving many offenders from the recruiters who identifies the vulnerable person, the transporter, the staff of the hospital/ clinic and other medical centers, the medical professionals, the middlemen and contractors, the buyers, and finally, the banks where organs are stored are all involved in the racket.
The UN Protocol to Prevent, Suppress and Punish Trafficking in Persons, Article 3 includes "organ removal" and its subsequent sale as an end purpose of trafficking.
Both Thailand and United States are UN member states. They both have agreed to create domestic laws for "prevention, investigation and prosecution" of organ smuggling. The U.S. is widely understood to play a role in organ trafficking, since many of the wealthy recipients of trafficked organs originate from the States.
Media coverage of organ smuggling in U.S is prominent. In 2009, a New Jersey resident was found guilty of selling black-market kidneys. For over ten years, he purchased the kidneys from poor Israelis for around $10,000 per organ, and sold them to desperate transplant seekers in the U.S. for around $160,000 per organ.
Since the smugglers were Americans trying to ship illegal organs to U.S, how should we as a nation act? Should Thailand have been more careful to not let the smugglers escape? Should there be stricter protocols in U.S where every organ donation needs to be verified to come from a reliable source?