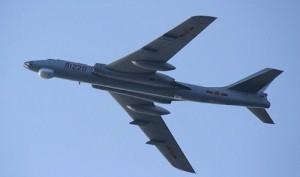 Approximately one year ago, China declared to the international community they had established an Air Defense Identification Zone (ADIZ) in the East China Sea. An ADIZ is an extended territorial airspace where a declaring state has the authority to identify any approaching aircrafts before they are permitted to enter into the state's airspace. Also, in some circumstances, the declaring state can intercept some aircrafts for interrogation if the aircraft is believed to pose a threat.
The fundamental purpose of ADIZs are simply to protect a state's national security interests. Prior to China's announcement last year, a number of other nations also adopted ADIZs including the U.S., Japan, and Canada. The authority for a state to establish an ADIZ is recognized under customary international law. It's founded on the principal that every state has the right to create its own security measures.
Due to the ongoing tensions between China and other South East Asia countries, specifically Vietnam and the Philippines, it didn't come as a surprise to many nations that China established its own ADIZ. However, it did raise a significant amount of criticism and controversy. Many ASEAN countries, including Vietnam and the Philippines, have perceived China's actions as aggressive and proactive, while also questioning its authority to establish an ADIZ.
What's more, China has recently indicated its intention to establish a second ADIZ in the East Sea. If China was to set up a second ADIZ in the East Sea, it would stretch over the airspace of the Vietnam's archipelago, Hoang Sa. Additionally, the ADIZ would overlap with Japan's established ADIZ. This would most likely create confusion for aircrafts that receive conflicting instructions from both nations.
The possibility that China may establish a second ADIZ has expanded the concerns of ASEAN countries to across the international community. In March 2014, at an International Civil Aviation Organization (ICAO) Council held in Montreal, the United States and Japan expressed their opposition to the proposal and found that the ADIZ would be contrary to international law. The U.S. and Japan contend that China would be extending its territorial limits too far. "The United States and Japan submitted that China's ADIZ contravenes the principle of 'freedom of overflight' in high seas as codified in Article 87 of the 1982 United Nations Convention on the Law of the Sea (UNCLOS)."
Do you think that China would be overstepping its jurisdictional authority if it establishes a second ADIZ? Or do you think that an establishment of a second ADIZ is a reasonable precautionary measure?
Sources:
Experts Worry Over the Possibility of China Setting up ADIZ in East Sea, Tuoitrenews, The News Gateway of Vietnam, November 19, 2014.
Jaemin Lee, China's Declaration of an Air Defense Identification Zone in the East China Sea: Implications for Public International Law, American Society of International Law, August 19, 2014.
David A. Welch, What's an ADIZ? Why the United States, Japan, and China Get it Wrong, Foreign Affairs, December 9, 2013.