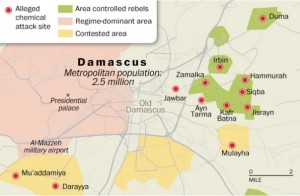 In a surprising move over Labor Day weekend, the Obama administration decided to seek congressional approval before launching a punitive missile strike on Syria for using chemical weapons on its own people. The vote is scheduled to take place when Congress reconvenes on September 9th. In the meantime, Obama has already begun lobbying Congress to support military action against Bashar al-Assad's regime by phoning numerous key players across both aisles, and by meeting with Senators John McCain and Lindsey Graham- two Republicans who aggressively support military action. Obama has also tapped his secretary of state John Kerry, and vice-president Joe Biden, to assist with the lobbying effort.
For now, it appears unclear how Congress will react. Obama's decision to seek congressional approval comes in the wake of the United Kingdom parliament's vote last week to avoid using military action against Syria. With the UK folding, the White House is now supported only by France. Weak support from the international community may weigh heavily upon Congress when it decides which course to take. An additional concern is that a United States missile strike may lead to an excessively prolonged presence in the region, similar to the war in Afghanistan.
Beyond the lack of an international backing, a key aspect that Congress must consider is how effective a military strike will actually be. The chemical attacks took place on August 21, and since then, the Syrian conflict has taken center stage across international media outlets. By now, the Syrian regime has had ample time to prepare for a military assault and bolster its defensive measures. At this point, it is beyond dispute that the United States has lost the element of surprise. Additionally, it is uncertain if a military attack will have any meaningful deterring effect upon Bashar al-Assad and his government.
Do you think the United States should interject itself in Syria's civil war? Will a punitive strike be effective? If the United States does decide to act, do you think it will lead to prolonged military activity in the region?
Sources: