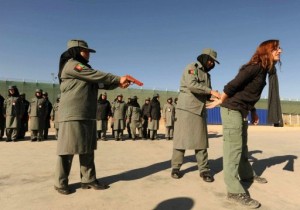 A recent United Nations report detailed the prevalence of both sexual abuse and harassment suffered by women police officers – who make up roughly one percent of a 155,000 person force – in Afghanistan. Indeed, many of the women interviewed claimed that sexual harassment and sexual abuse was a serious problem within the police force. However, Ghulam Mujtaba Patang – the recently retired Minister of the Interior for Afghanistan – questioned these findings. He believed that if women police officers were really being sexually abused, they would have come forward and made formal complaints.
Female victims of sexual violence in Afghanistan are often shunned by their families. They are beaten, jailed, and sometimes even killed to avoid embarrassment to the family. It is clear, then, that the women can either suffer from sexual abuse and not tell anyone, or they can seek help, be shunned, and then possibly killed by their family while seeking help.
This report by the United Nations raises important questions about the status quo of women's rights in Afghanistan. Obviously, if the treatment of women in the Afghanistan police force is not merely an aberration, but a prolific practice, whole scale changes will be needed. But just how those changes could be implemented is far from an easy answer, especially if this culture of abuse is wide spread.
Problems of this magnitude are not solved over night. Small steps are the building blocks to larger solutions. Maybe a start in the right direction would entail pressure from human and women's rights groups from around the globe to bring the problem in the purview of the world community. Perhaps those apart of the governmental hierarchy in Afghanistan – if the problem is indeed widespread – could commence a constitutional convention that would at least begin the discussion of sexual abuse against woman within the country's borders. While the answer to this problem may seem elusive, it is a problem that all people would most readily agree needs solving.
Sources: The New York Times; CNN
Picture: http://pakistan.onepakistan.com.pk/news/world/afghanistan/204709-afghan-policewomen-suffer-sexual-abuse-at-work.html