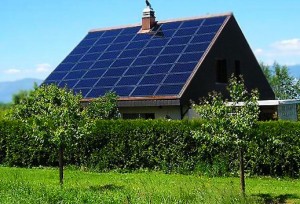 It is well known that taxes in Europe are nothing short of ridiculous. France imposes a 75% tax rate on its wealthiest citizens. As absurd as that sounds, it is not to be outdone by Spain's new "bright" idea – tax personal solar panels that citizens use to supply their own electricity.
In a complete reversal of its previous policies, Spain now seeks to punish the same behavior it spent years trying to encourage. The tax on solar energy is actually a makeshift solution to a problem that the Spanish government created. For years, it has aggressively subsidized solar energy, in an effort to promote the energy source. As Spanish citizens jumped on board, this created a new problem. So much solar power is created in Spain, that production capacity for conventional power-grid electricity exceeds demand by more than sixty percent. This imbalance has created a massive problem for the Spanish government, because it now finds itself in debt to electricity producers to the tune of nearly 26 billion euros ($34.73 billion USD). In short, Spain's solar subsidies were so successful that they created a huge imbalance between supply and demand for conventional energy. Of course, Spain now seeks to solve that problem the only way it knows how – more taxes.  The government hopes the solar tax will help pay off their 'tariff deficit' – the difference between the cost of operating the country's electricity grid and the money (or lack thereof) that it brings in.
Recently, Spain has taken further action to toughen up its "sun tax" law – by enforcing it with "solar police." A new change to the ruling Popular Party's (PP) Energy Law allows inspectors to raid properties they are suspicious of producing solar energy, armed with nothing more than administrative authorization. If the property owner refuses to let them in, Spain's Industry Department can request a court order that allows inspectors to access the property alongside Spanish national police. Once inside, the officers can seize all documents related to energy consumption and seal off the property. If it turns out citizen's are producing solar energy without paying taxes on it, they can be slapped with further fines.
Do you think Spain's "solar tax" and "solar police" are repressive? Do you believe in government intervention of the free market? Was it wise for Spain to aggressively subsidize solar energy? Is their response to a problem they created by interfering with the free market appropriate? 
Photo Credit: 21st Century Wire
Sources:
The Local: Spain's News In English