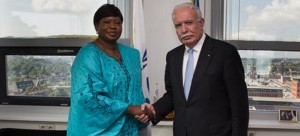 There is current debate over whether the Islamist movement would support the Palestinian Authority if Mahmoud Abbas were to bid to join the International Criminal Court (ICC). Now, the Islamist movement is saying that it would back Abbas. This would be a big leap forward for the Palestinians. It would enable the court to go into Gaza to investigate the alleged war crimes that have been committed there during their current war with Israel.
In order for a country to join the ICC they need to be a recognized state. Currently, there are 122 countries that act as state parties to the Rome Statute. The statute allows the country to bring war crimes complaints to the court. The court has limited powers and jurisdiction. Member states are required to carry out arrests. Because international law lacks uniformity, it is difficult for the ICC to govern international war crimes between nations. Many nations choose not to join because of the fear that their military operations will be reprimanded for their daily activities. The ICC can only open investigations in countries that have signed its treaty, or that invite it in, and Israel has done neither. The UN Security Council is empowered to tell the court to open an investigation anywhere. The United States does not support an investigation being opened in Gaza because it would interfere with their allied relationship with Israel. Therefore, the U.S. said that they would veto any such proposal from the Council.
Palestine previously was not recognized as a state by the United Nations. There have been times in the past in which Abbas has invited the ICC in to investigate war crimes but due to their status as a non-state, the court refused. In 2012, Palestine was voted as an "observer state" by the UN General Assembly. Since then, Fatou Bensouda, the court's chief prosecutor, has stated that Palestine may file war crimes complaints if it chooses to join the ICC's Rome Statute. Otherwise, the court lacks jurisdiction over the Palestinian territory. Many Palestinians are weary about joining the court. Further, if Palestine filed to join the ICC it would be hard for the court to carry out any investigations because Israel's control over access to Gaza.
Do you think Palestine should join the Rome Statute of the ICC? Do you think that it would create more problems between Western governments? Or do you feel that it would help prevent future Israeli war crimes?
Source: The Economist
Photo: ICC