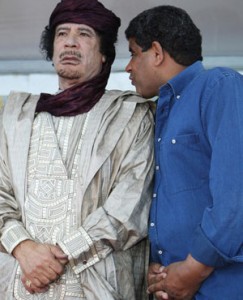 The International Criminal Court (ICC) ruled that Moammar Gadhafi's intelligence chief Abdullah al-Senoussi's should face a war crimes trial in Libya. This decision confused and angered many with the ICC finding that the Libya was competent to try al-Senoussi finding them "willing and able" removing jurisdiction from ICC, which is a court of last resort.
The ICC charged al-Senoussi with crimes against humanity for his alleged involvement in fatally oppressing opponents of the deceased former dictator in 2011. The court found that Libya did not express any unwillingness to try al-Senoussi and that the system was functional enough to support this trial.
Under international law, each country has the first right and the obligation to try its suspected war criminals. With Libya expressing its interest to persecute al-Senoussi for his alleged atrocities the court evaluate numerous factors determining Libya's validity as a venue. Libya already has al-Senoussi in custody, which satisfies the state's ability to detain the accused. Libya has also sufficient evidence that has satisfied the court's Admissibility Challenge demonstrating the ability "to collect the necessary evidence and testimony."
The ICC also evaluated whether the turmoil in Libya would make it an unstable environment to hold a trial. The court found the ongoing security concerns could play a factor but it would not effect the trial per se based on the vast amount and the nature of the evidence Libyan officials amounted in its investigation. Submitting that delays in finding counsel are understandable based on the nature of al-Senoussi's crimes the Ministry of Justice detailed steps that are being implemented to assist in finding an attorney. Regardless of that fact the court held that "these challenges, however, are far from insurmountable and do not amount to inability or unwillingness on the part of the Government to carry out genuine proceedings."

Do you think that the ICC made the right call in removing the trial of former Libyan intelligence chief Abdullah al-Senoussi? Do you believe that Libya will be able to hold an effective trial?